Start leading with greater influence and impact!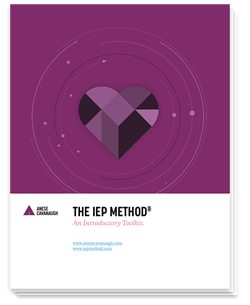 Our intention, energy and presence (IEP) affect how people respond to us, how well we lead and get people aligned, whether we hit our goals or not, even our kids' attitudes. We actually affect them. With IEP, we get to happen to our lives vs. our lives "happening to us."
The IEP Method® Introductory Toolkit shows you how to immediately have a positive influence with greater impact. You'll learn how to:
Be intentional about your presence and what you bring into the room.
Make team meetings hum with positive energy and productivity.
Align your mind, body, and intention for optimal presence.
Eliminate energy drains from your physical and emotional space.
The IEP Method Introductory Toolkit is easy to use, immediately actionable, and the first step to maximizing your impact.