Navigating this year has been tricky -- I know I'm not alone. The range of emotion I experience, almost daily, is like nothing I've ever felt before -- a mix of personal feelings, empathy for what's going on, feeling the collective energy and emotions on our planet right now, and ambiguity galore -- combined with a lack of control of so many big things -- creating an incredible amount of global anxiety. It's a lot.
I spoke with a friend yesterday I'd not spoken with since the pandemic started. As we shared our experiences and what we were doing to navigate this time in our businesses and with our lives and with our kids, I was struck again by the power of being "seen," sharing the truth of how we're doing -- as well as best practices we're finding for ourselves -- to move through things.
I made a video for our members to share an update of where we've been, my own experience, what I'm finding useful, and also some things we've created for clients and our community to lean into as they feel useful. (Like the upcoming IEP Method® Webinar Workshop Series that starts 11/3. More below.)
I thought you might appreciate some of the quick points as well, so they're offered below. I've also included more upcoming events at the end of this post to support you in your own IEP practice and pandemic navigation.
What I'm finding helpful for myself these days:
Doing my IEP work

everyday (doing my IEP Sheet each day -- takes 5-7 minutes).
Creating a morning routine that supports me (whatever that is -- 5-30 minutes).
Creating and keeping promises to myself. How do we know which promises are needed? I find that whenever I experience "contraction" in my body or that feeling of "ick," I'll likely find a place I'm not fully honoring my well-being or values. In that place there's often a new promise, or "agreement with self," to be created.
"Bubbling up" proactively, and especially reactively when negativity, chaos, and energy from external forces are at their greatest. (Good news: The more you do this proactively, the easier it is to bubble up reactively on demand.)
Allowing for full authentic emotion. I have a good cry about once a day (really), processing the emotions and energy I feel -- for myself and also for what I feel going on around me. Full out. Full permission. No shame. I experience it like a cleansing. I might be working out, blow drying my hair, or laying on my office floor. I have my emotion, honor it, process it. And when I feel complete, I'm back to work/life/whatever.
Identifying relationships, habits, and ways of being and thinking that serve, or not, and then either shifting, eliminating, or up-leveling them.
Honoring and acknowledging the little things -- the little wins, the little movements, the little percentage improvements, the little acts of kindness, the promises kept to self.
Daily exercise and self-care. I find even 20 minutes a day of "intentional exercise" and getting into my body is wildly helpful.
Intentional hydration. I fill up a few water bottles at the beginning of the day and work through them throughout. I also start with 2 glasses in the a.m. -- with lemon and a bit of Celtic sea salt -- before coffee.
Improving my sleep. For me this means no alcohol, no TV, sugar, or anything that interferes with my sleep.
Intentional time and way of being with my kids (whether in person or from afar). This time is precious.
Looking at EVERYTHING as an experiment and opportunity for learning and growth. Everything.
Reframing, finding gifts in tricky situations, and holding that things are happening for me vs. to me. For this business vs. to it. For us as a culture vs. to us. No matter how messy or sh***y it may feel in the moment. (This gives more space and allows for more solution building, energy, and productive action.)
Therapy and safe space for "authentic emotion" to work through whatever needs working through, and to be seen. Tending to mental health whether that is via a professional therapist, coach, friend, partner, or person who can hold safe congruent space for us is essential -- it was before pandemic, even more so now.
Working through Contagious You again -- specifically Chapters 4, 6, 8-12, and 14 right now. (Yes, I wrote this book, and I really feel like it wrote me. I am finding it useful to revisit through new eyes this year.)

Limiting/discerning media

(social media, news, junk tv, etc.) -- doing my best to only allow intentional nourishing stuff into my brain. For news, I check it twice a day, staying conscious with my intake (not getting sucked into FB threads). Resource: @JessicaYellin on Instagram -- #newsnotnoise -- gives a great clean capture of daily news, explains things without hype, and has come to be an evening catch up companion as I make meals or clean the kitchen.
Staying curious, focusing on service and impact, and looking at what's the littlest thing I can do to help things go right. (See my DENT framework in Contagious You, Chapter 7.)
I "phone-a-friend." I have a couple of people in my life I call that I know can hold space, will think with me through anything, and will be with me in delight or dark. And I'll do the same for them. We are essential to each other's well-being, growth, sanity, and impact on this planet.
Finally, self-kindness as much as possible, especially when I forget to do any of the above or am being hard on myself. (I have an inner drill sergeant that tries to keep me "on track," anyone else?). Breathing. Getting present. Rebooting. And being kind, caring, and gracious with self are key. (Bonus: Nicer to self means nicer to others.)
Three things:
These all take intention and work, they're works in progress, and they're ways of being and practices I've cultivated for YEARS in growing the IEP body of work. This year has invited me to use them like no other. If these resonate or feel useful, I invite you to pick 3 and start playing with them in a way that's congruent for you.
These practices help me be more grateful, I can see more and pause more and find gifts and opportunities more easily when I'm in a more resourceful state.
These are not just for me. (If they were, honestly, I think they'd be harder to keep coming back to and practicing and staying in devotion with.) These not only help me hold my space and take care of myself, they're also in service of the people I love and lead, as I am better able to be well, manage my energy and emotions, hold safe space for others, give others more of me, think more clearly and decisively, and be clean in my intentions, energy, presence (my IEP), and what I "bring to the table."
I hope there is something in here that resonates and serves you. Please feel free to let me know. And if what I share above feels useful to you and you're wondering how you create more of this in your daily life or cultivate an 'IEP practice,' I encourage you to join me for one of our online self-paced or live virtual programs.
Next...
As part of our experimenting and doing our own work during this time, we've created several new online self-paced programs in our store, including a RESET Program, a Virtual Presence & Meeting IEP Toolkit, #IEP100, and more. You can access them all here.
In addition, we have 4 more LIVE VIRTUAL events for 2020 in November and December. These are designed SUPER intentionally to help you remove any obstacles around "time, money, schedule, energy, business needs" and even "I don't want to be on screen!"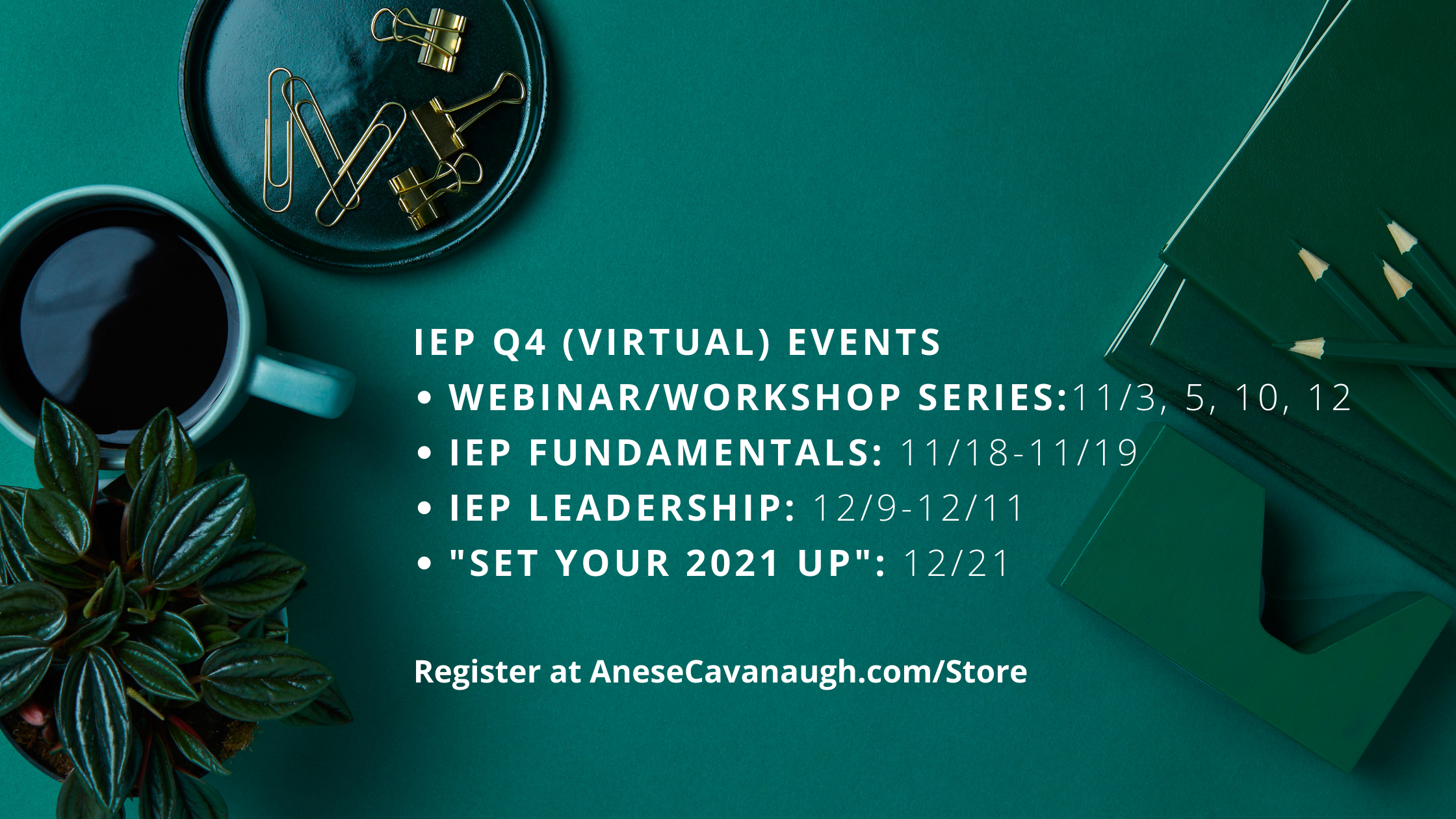 OUR LAST EVENTS OF 2020 ARE:
You can find all of these in the TOP row of our "store" right here. I'd love to have you! Please share with your teams, friends, family, and colleagues as well so we can honor and support as many as possible as we move through this time.
To you and yours,
Be well, be safe, be loving, lead.
See you soon,
Anese